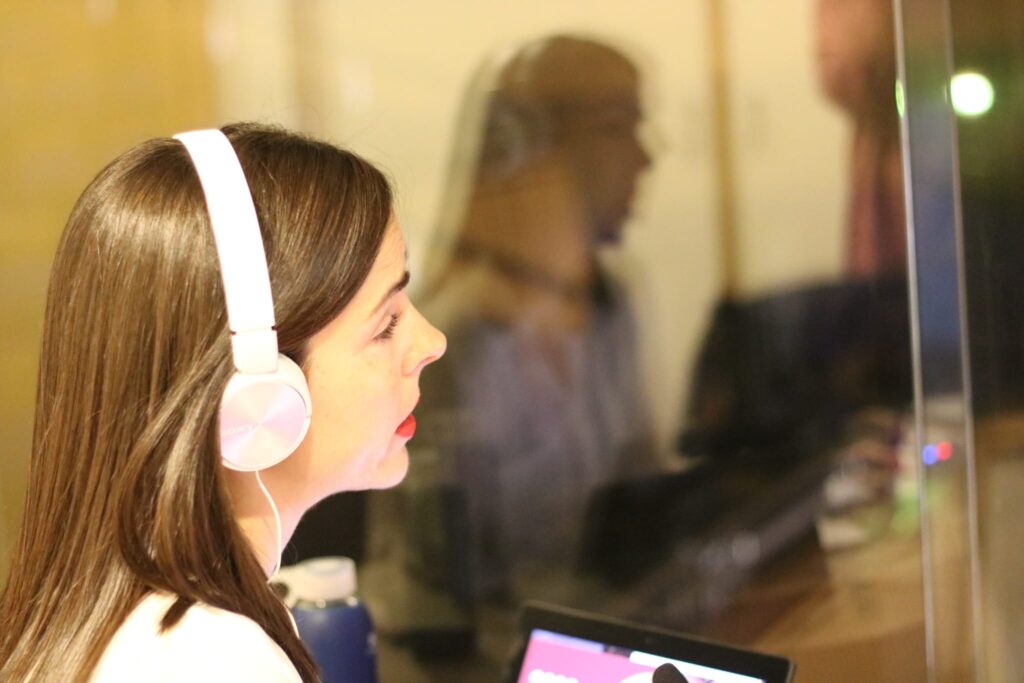 A professional interpreter is an essential link in the smooth running of a congress or meeting, ensuring that communication is fluid between the parties and that the message reaches its intended recipient without interference.
We offer all types of interpreting: simultaneous ("simultaneous translation") with booth or tour guide system, consecutive, liaison, whispered, telephone and remote (online) interpreting. In addition, thanks to our extensive network of professional contacts, we can provide teams of interpreters in various languages and meet your needs for the rental of interpreting and audiovisual equipment.
Interview with novelist James Ellroy in A Punt TV channel
Interview with Jo Nesbo, crime novel author, in Radio Nacional de España
Symposium on airport security

SIMULTANEOUS INTERPRETATION
The most commonly used mode at conferences and congresses, where the interpreter translates the original speech in real time. For this type, technical equipment with booths, sound equipment and speakers is required.

Simultaneous interpreting is done for a maximum of two or three people and the interpreter stands next to them and simultaneously interprets the speech in a low voice.

It consists of transmitting what is said in a conversation between two or more people. It is the ideal option for meetings between representatives of two companies, negotiations or talks.

CONSECUTIVE INTERPRETATION
The interpreter translates the original message after the speaker has finished speaking, in 5 to 10-minute stretches. No technical means are required. The interpreter stands next to the speaker and takes notes to help memorise the speech. This type of interpretation is suitable for presentations or press conferences.

INTERPRETATION WITH TOUR GUIDE SYSTEM
If it is not possible to use booths because of the available space, or if the interpreter and the listeners need to move around, a portable, wireless interpreting system called tour guide system can be used. The interpreter performs the simultaneous interpretation through a microphone and the users of the interpretation listen to it through receivers.

When the participants of a meeting cannot be present at the same place at the same time, web-based platforms can be used to hold a virtual meeting. Simultaneous interpretation should be integrated so that the interpreter can work remotely, from home or from a professional interpreting studio.
WE WORK NATIONALLY AND INTERNATIONALLY
Código Lingua is based in Valencia and offers its services nationally and internationally. Quote within 24 hours.
We cover various language combinations, from the most common ones, such as English, Spanish, French, German, Italian, Valencian/Catalan, to less common ones such as Arabic, Russian or Turkish.